Many Hong Kong consumers who feel uncertain about the country's prospect have been looking to move a portion of their asset overseas in order to reduce geographical risks within their portfolio. When it comes to investment assets, Firstrade is a commission free, offshore platform that Hong Kong investors can easily apply for. 
Within this article, Planto will be reviewing pro & con of investing with Firstrade as well as providing a step-by-step guide on how to open a Firstrade account.
---
Editor's choice
---
Pro and Con of Firstrade
Opening an account with Firstrade
Firstrade's online account opening process is very simple and can be completed within a few minutes.
Open an account via Firstrade's website
Upload identification document (Support both HKSAR Passport or BNO)
Fill in basic information such as name, address, email, employment status and investment preference
Set up electronic signature and submit the application
A confirmation email will be sent immediately after the application is submitted successfully. When the Planto team tested the account opening process, our account was approved and opened 5 hours after we received the confirmation email – this speed is pretty much the same as opening .
Once the account is opened, one remaining step is to deposit money and start trading.
Deposit transfer and withdrawal fees vary across different banks
Depositing funds into Firstrade account follows a similar process as any other brokerages, however fund deposit for Firstrade will be done through an international transfer. The transfer can be made via online banking platform or at bank branches, and it generally requires information such as name of the receiving bank, SWITFT code, payee account name, account number and the user's full name in English.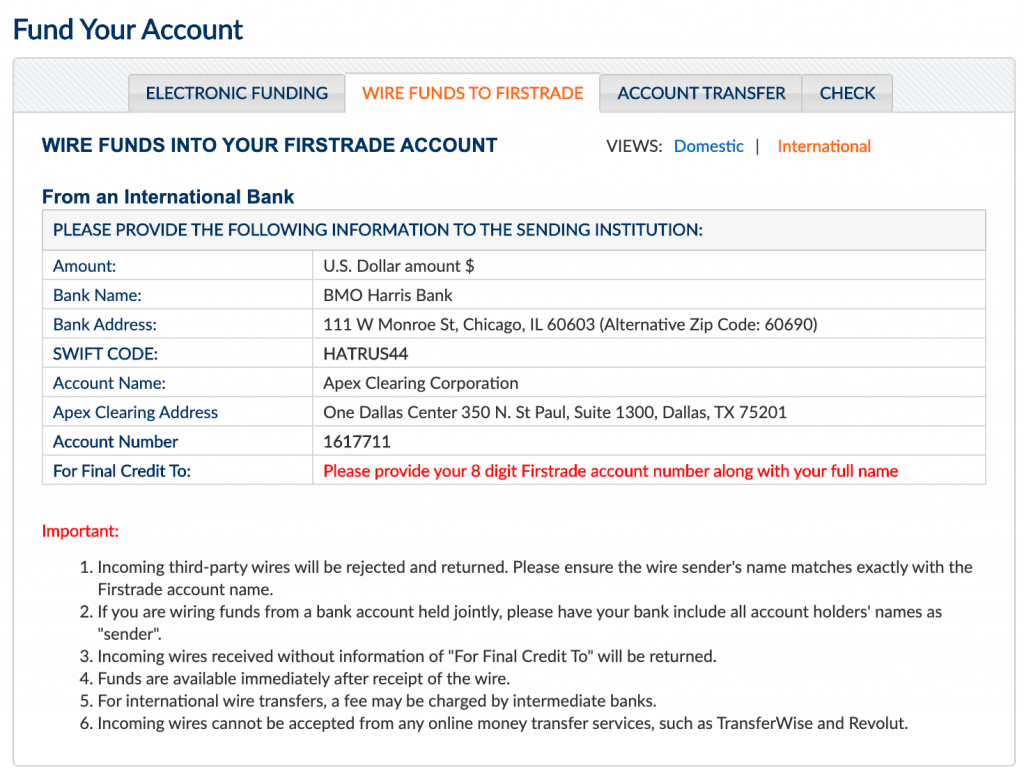 When the Planto team inquired about fund withdrawal cost, we were told that Firstrade will not charge any additional handling fee to Hong Kong users who choose to use bank transfer, however banks usually charge transfer fee of about US$35 (approximately HK$270) – but the actual fee may vary from one bank to another.
If the user choose to use Firstrade's Debit Card for fund withdrawal, a fee of 3% of transaction amount will be charged each time. However users with asset more than US$10,000 in their account are eligible for free withdraw of up to US$1,000 once every month. In general, the users should avoid making frequent withdrawal in order to avoid unnecessary fees.
Recommended Readings
Important information:

Investment involves risks. This information is intended to be educational and is not tailored to the investment needs of any specific investor. This information does not constitute investment advice and should not be used as the basis for any investment decision nor should it be treated as a recommendation for any investment or action. Past performance is no guarantee of future results. The value of investments and the income from them can go down as well as up, so you may not get back what you invest.