In recent years, there are more investment brokers launching in Hong Kong which is fantastic for consumers! Many of them have made investing very cheap, offer powerful stock research tools and help you invest smarter. uSMART Securities has done all of the above – it helps you invest in HK and US stocks with extremely low fees, uses big data to analyze stocks and gives strategies to follow. On top of that, the app is simple to use and easy to get started with.
What's great about uSMART?
Lowest trading fees in the market for HK and US stocks
Monthly investment plan available
Fund platform where you can buy equity, bond or money market funds with ease
AI-based stock screening tool
Easy account opening (3 minutes to get started!)
Simple app user interface
IPO stock subscription available
Licensed by the SFC for Type 1, 4 and 9 (!)
Opening uSMART Account in 3 Minutes
Opening a uSMART securities account is simple:
Download the app and receive a verification code via SMS; (or log in with your Facebook or Google account)
Use your phone to take pictures and upload your ID card and address proof
Fill in some basic information such as name, contact, financial status, etc.
Deposit funds and start investing
Deposit
Support eDDA instant deposit (HSBC, Hang Seng Bank, Bank of China, DBS Bank, Bank of Communication, Chong Hing Bank, China Merchants Bank, CITIC Bank, China Minsheng Bank, Wing Lung Bank)
FPS
Bank account transfer
Pricing plans for HK stocks
uSMART securities offers two plans for HK stocks:
Pay a commission: This means that you will pay 0.03% (if your account balance is more than HKD 100,000) or 0.05% (if your account balance is less than HKD 100,000) of the transaction as a commission and $0 as platform fees. In essence, this means if your account balance is $150,000 and you buy a few lots of HK shares worth $50,000, you would have to pay 15 HKD in fees.
Pay a platform fee: This is more straightforward – you pay a flat HKD 12 per transaction.
Which one you choose depends on your trading habits – if you buy in large transactions, the platform fee makes more sense. If your transactions are smaller, then the commission plan might be more suitable.
Pricing plan for US stocks
For US stocks, uSMART offers zero-commission plans. You just have to pay a flat USD 1 (~HKD 7.8) as a platform fee which is one of the lowest in Hong Kong. It's simple and ideal for starting to invest in the US!
Tools and Research
On top of having really low fees, uSMART also provides you with stock research functionality that can be quite powerful. The key features are:
Smart Advisor: This is an AI / Big Data driven stock screener that can help identify stocks based on various metrics including growth potential, price/earnings ratio and more. The performance is backtested but real-life performance over the long term remains to be seen – but it could still be a great tool to get ideas.

Stock analysis: For individual stocks, aside from providing the price quote, uSMART provides intelligent scoring based on various factors of the company e.g. profit, growth, industry prospects, dividend yield, etc., and ranks them to help investors make more informed decisions. As an example, HSBC Holdings (0005.HK) had a score of 69.55 on January 2, 2020; Tencent Holdings (0700.HK) scored 68.34 points on the same day.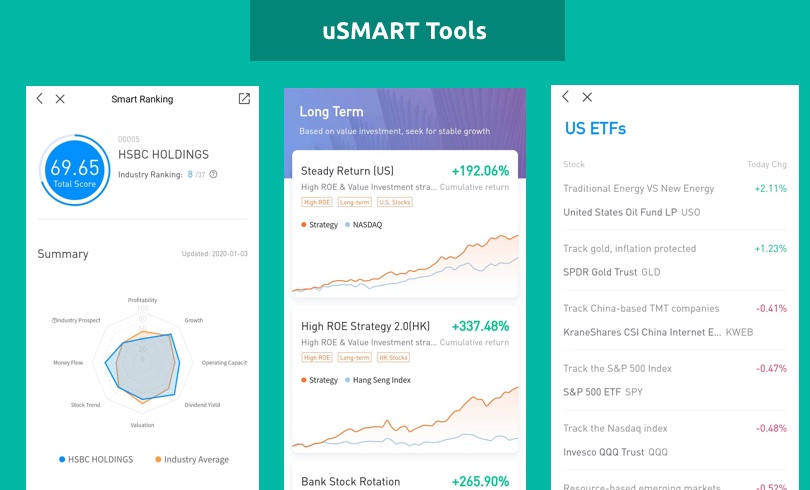 Smart Fund Platform
The funds on uSMART Securities platform are divided into four types: money market, bond, balanced and equity. Each fund has a chart to clearly show the performance trend, and lists the minimum investment amount and handling fee, which makes it straightforward for investors to choose what fund they are interested in.
Money Market Funds: These have the lowest risk and invest mainly in Treasury bills, commercial paper, etc. Many investors may opt to use money market funds as a substitute for time deposit plans. As of the end of 2019, uSMART's money market funds' returns ranged between 1.92% and 2.64% in one year.
Bond funds: The risks can be high or low, depending on the fund because bonds can have various risk levels (government bonds being lower risk, corporate and junk bonds being higher risk). As of the end of 2019, uSMART's bond funds' returns ranged between 2.69% and 14.53% in one year.
Balanced funds: These funds are diversified across bonds, stocks and other products. The risk is variable depending on the holdings of the fund and thus reward is also variable. As of the end of 2019, uSMART's balanced funds' returns ranged between 4.21% and 19.03% in one year.
Equity funds: These have higher risk (and higher returns). The investments include various types of stock assets which also makes it an easy way to diversify risk. As of the end of 2019, uSMART's equity funds' returns ranged between 7.96% and 51.78% in one year.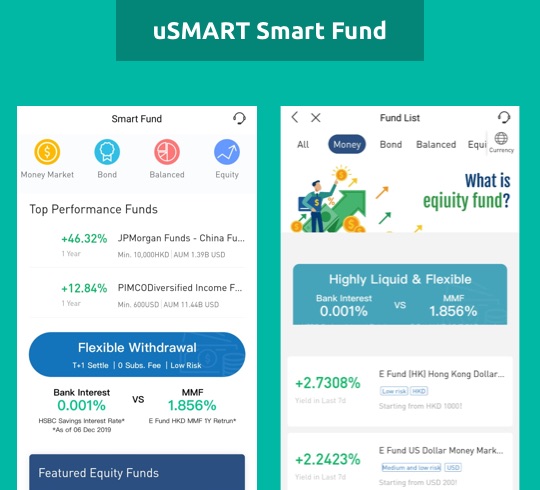 Summary
The uSMART mobile app is powerful, affordable and easy to use. The Smart Advisor functionality is interesting but lacks real-life historical data to see if it really works and may take a while before it can be considered a replacement to robo-advisors.
The good news is, even if we exclude the smart advisor and analysis features, uSMART's app is really good. Whether you're a beginner or an experienced investor with a bank already, you'd want to give it a try yourself.
Important information:

Investment involves risks. This information is intended to be educational and is not tailored to the investment needs of any specific investor. This information does not constitute investment advice and should not be used as the basis for any investment decision nor should it be treated as a recommendation for any investment or action. Past performance is no guarantee of future results. The value of investments and the income from them can go down as well as up, so you may not get back what you invest.