Hong Kong is seeing a surge in overseas investment demand, many have also chosen to transfer their assets to offshore accounts. Owning an offshore account comes with benefits beyond risk management, account holders will also have access to investment options that may not be available through local banks or brokerages.
Saxo Bank, the parent company of Saxo Capital Markets Hong Kong, is a licensed and regulated Danish bank which offers an online investment trading platform globally. Any Hong Kong resident can easily apply for a Danish offshore account to hedge their risk as well as invest in popular markets like Hong Kong, the U.S., the U.K., Japan, Singapore and many more. If you are one of the savvy investors, you can also enjoy Saxo's exposure to over 40,000+ investment instruments ranging from stocks, bonds, funds to forex and options.
The Planto team has tried out both Saxo's account opening process and its functionalities, if you are looking to invest overseas or own an offshore account, be sure not to miss our review down below!
SaxoInvestor Limited Time Offer: Zero Buy-Commissions
Saxo Markets has newly launched SaxoInvestor, a simplistic investment platform that provides practical investment knowledge covering various topics to help busy investors manage their portfolio assets effortlessly. New customers who open an account will enjoy zero buy-commissions for Hong Kong and U.S. stocks until the end of May.
Saxo Markets and securities account features
Choose to open an international (offshore) account or a Hong Kong local account online
Offshore account can be opened by Hong Kong resident using Hong Kong address
Offshore account comes with an International Bank Account Number (IBAN) which is equivalent to owning a Danish bank account
Wide investment options of 40,000+ instruments including stocks, ETFs, bonds, mutual funds, forex, commodities, futures, and options
Invest in one or more of the 37 supporting exchanges around the world
Free access to professional analyses, charts, news with customizable trading interface
Choose between a simplified platform, SaxoTraderGo and/or feature packed, SaxoTraderPro, depending on your investment need
Enjoy greater flexibility with API connection to 3rd party platforms such as Excel, Dynamic Trend, TradingView and MultiCharts
Opening a Saxo account in 4 easy steps
Hong Kong residents can choose to open either Saxo's international (offshore) account or a Hong Kong local account. The Planto team tried out Saxo's offshore account opening process, we completed the whole process within 15 minutes, and our account was successfully opened within 3 days.
Step-by-step guide on how to open an offshore account:
Step 1: Begin the account opening process by entering your name, email address and set a password. The website will then ask for your personal information such as address, date of birth, gender etc. (Hong Kong address is acceptable here!)
Step 2: Select your default currency then fill in information relating to your employment and financial profile. You will also need to make a few declarations such as whether you are a U.S. citizen or if you have any political involvement.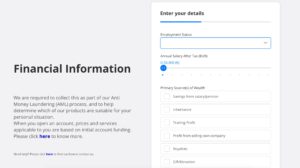 Step 3: Upload ID, self-portrait photo and your proof of address (proof of income is not required for offshore account but is required for the Hong Kong version)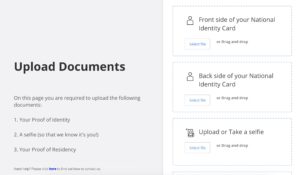 Step 4: Account approval by Saxo!
After a successful account opening, users can access their Saxo account through A) mobile version of SaxoTraderGo B) desktop version of SaxoTraderPro C) Saxo's website. To begin investing, the users will need to deposit at least US$2,000 for the offshore account or HK$10,000 for the Hong Kong account.
Comparison between Saxo's international account and Saxo Hong Kong account
| | | |
| --- | --- | --- |
| | International account | Hong Kong account |
| Account location | Denmark | Hong Kong |
| Deposit/fund transfer methods | Bank transfer or credit card | Bank transfer or cheque |
| Minimum account opening deposit | US$2,000 | HK$10,000 |
| Investment products | 40,000+ instruments | 40,000+ instruments |
| Account opening time | Within 3 working days | Within 3 working days |
| Protection | €100k for deposit, €20k for securities  | HK$500k for securities |
| Where to apply | Visit Broker | Visit Broker |
Saxo offshore account highlights
Offshore account with low deposit requirement
Local banks in Hong Kong typically require a 7 digits minimum deposit in order to open an offshore account, on the other hand Saxo only requires US$2,000 (about HK$15,600), which is a lot more affordable to the general public.
After a successful account opening, the user will receive an International Bank Account Number (IBAN) which is equivalent to having a Danish bank account, this is good for both risk management and overseas investment.
Furthermore, many European countries recognize securities investment as eligible local investment for immigration consideration or investment visa – Saxo is connected to more than 37 exchanges worldwide so owning an account can be useful in this aspect.
Flexible deposit and fund transfer methods
Bank transfer: Simply go to the menu > deposit and transfer > bank transfer > select currency. You can then make a transfer using user's unique transfer information displayed on the platform. One point to note is that while Saxo will not be charging any deposit fees, the user may still be charged by the transferring bank.
Credit card: Simply go to the menu > deposit and transfer > credit and debit card >fill in card information and amount > confirm. This process is the same as making an online shopping transaction, Saxo will also clearly indicate transaction fee which the user needs to pay.
One simple platform to invest in the U.S., Europe and many Asian markets
Funds deposited with Saxo in Denmark are protected and regulated in accordance with European Union's laws. Saxo is also licensed to operate in more than 15 jurisdictions around the world including Hong Kong, Denmark, the U.K., Singapore and more – making Saxo a reliable global platform.
Through an international platform like Saxo, the users can easily explore investment opportunities beyond Hong Kong and the U.S., some investors may have insights into markets like the U.K., Singapore, Japan, China, Australia, Germany, Ireland, Italy, Sweden or South Africa. Saxo is packed with more than 19,000 stocks and 3,000 ETFs – giving portfolio flexibility to investors from geography, sector and instrument standpoints.
Purchasing stocks through SaxoTraderGo is also simple. The journey is demonstrated below as the Planto team tried to purchase SPH REIT in Singapore and CKH Holdings in Hong Kong. After selecting your stocks, simply specify order type, number of shares and other instructions to make a trade order. All fees will be shown before you execute any trade.

Enjoy a simple trading experience with SaxoTraderGo or comprehensive service from SaxoTraderPro
SaxoTraderGo is Saxo's "entry level" trading app. Having said that, SaxoTraderGo is packed with all the fundamental features such as analysis, custom charting, stock screening and price alert tools.
The desktop version of SaxoTraderPro is more suitable for experienced investors. On top of all the fundamentals, SaxoTraderPro comes with extensive research and trading features suitable to be used on large screens. Despite the number of features, SaxoTraderPro has a relatively clean and easy to navigate interface.
All Saxo users can use both SaxoTraderGo and Pro from the same account, all of their transactions and settings will also be updated automatically on both platforms.
Investment transaction fees
There are many commission-free options for Hong Kong and U.S. investment. While Saxo is not one of the commission free platforms, its fees are overall considered to be reasonable, who charge less than banks in Hong Kong after all.
| | |
| --- | --- |
| U.S. stock | From US$3 |
| Singapore  | From S$15 |
| Japan  | From ¥1,000 |
| U.K. | From £5 |
| Hong Kong | From HK$40 |
| Mutual funds | No commission and platform fees |
| Bonds | From €50 |
| Forex | Spread of 0.4 pips or more |
Making use of learning and risk assessment features as a new investor
Saxo's wide product offering can be overwhelming for new investors. If products like futures and options are not for you then you can easily filter them out in the product setting.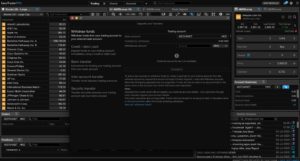 New users and users looking to expand their investment scope will be taken through Saxo's risk assessment questionnaire that aims to help users understand their risk appetite and investment experience. The platform then assists users with investment materials, market analyses and latest news to ensure that all users can fully utilize Saxo's global investment platform effectively.

Saxo's 3 account levels
Saxo offers 3 different levels of service namely Classic, Platinum and VIP:
Account level
Classic
Platinum
VIP
Minimum fund requirement
US$10,000 (US$2,000 for Hong Kong account)
US$200,000
US$1,000,000
Service features
✔️ Low entry prices

✔️ Digital service and support

✔️ 24/5 technical and account support
✔️ Up to 30% lower fee when compared to Classic

✔️ Digital service and support

✔️ 24/5 technical and account support

✔️ Priority local-language customer support
✔️ Best pricing offered by Saxo

✔️ Digital service and support

✔️ 24/5 technical and account support

✔️ Priority local-language customer support

✔️ 24/5 Direct access to trading experts

✔️ 1:1 SaxoStrats access

✔️ Exclusive event invitations
Is Saxo the right investment platform for you?
If you are simply looking to invest in the Hong Kong and U.S. stock markets with onshore assets, Saxo's trading fees may not be the lowest for you. In return, Saxo provides more comprehensive access to analysis, screening and information tools which make Saxo suitable for experienced investors or savvy newcomers who are looking for more out of an investment platform.
However, if you are looking to explore multiple overseas markets or invest with assets offshore – Saxo is definitely one of the most convenient options for Hong Kong residents.
One last point to note is that, if there is no transaction on a Saxo account for longer than 180 days, the account will incur an inactivity fee of US$100.
Important information:

Investment involves risks. This information is intended to be educational and is not tailored to the investment needs of any specific investor. This information does not constitute investment advice and should not be used as the basis for any investment decision nor should it be treated as a recommendation for any investment or action. Past performance is no guarantee of future results. The value of investments and the income from them can go down as well as up, so you may not get back what you invest.