The rise in online and mobile investment has made the buying and selling of stocks, including Hong Kong stocks, US stocks, ETFs, bonds or funds, extremely simple. With all kinds of possibilities opening up to retail investors, making investment decisions is now harder than ever. If you are spending most of your day in the office, where will you find the time and energy to keep up with investment data and news?
For this very reason, the Danish global investment platform SaxoMarkets has introduced a new platform called SaxoInvestor. SaxoInvestor has been specifically designed to provide a simple and smooth user experience. More importantly, the platform is packed with up-to-date market analysis provided by experts which can help to reduce both the time and effort needed by retail investors to make informed decisions.
Limited time offer: open a Saxo account on or before 30th June 2021 and build your Hong Kong and US stock portfolio without any buy-commission!
Discover the latest investment opportunities
There are a good number of investment websites out there that offer a lot of information. However, they are often cluttered and are jammed with confusing stock codes. SaxoInvestor offers a cleaner and well-organised interface that makes finding the information you need easy. Different investment themes and sectors are clearly listed, under themes including China's Greater Bay Area, Greater China ETFs, E-commerce, the Green Transformation or under sectors like technology, energy and so on.
SaxoInvestor also demonstrates its expertise in investment through its 100-year investment portfolio, researched and formulated by their team of experts. The portfolio invests in ETFs, assembling assets such as stocks, commodities, real estate and cryptocurrencies for diverse risk allocation. According to SaxoInvestor, the portfolio can withstand the test of most market conditions with an average annualised return of 23.52%.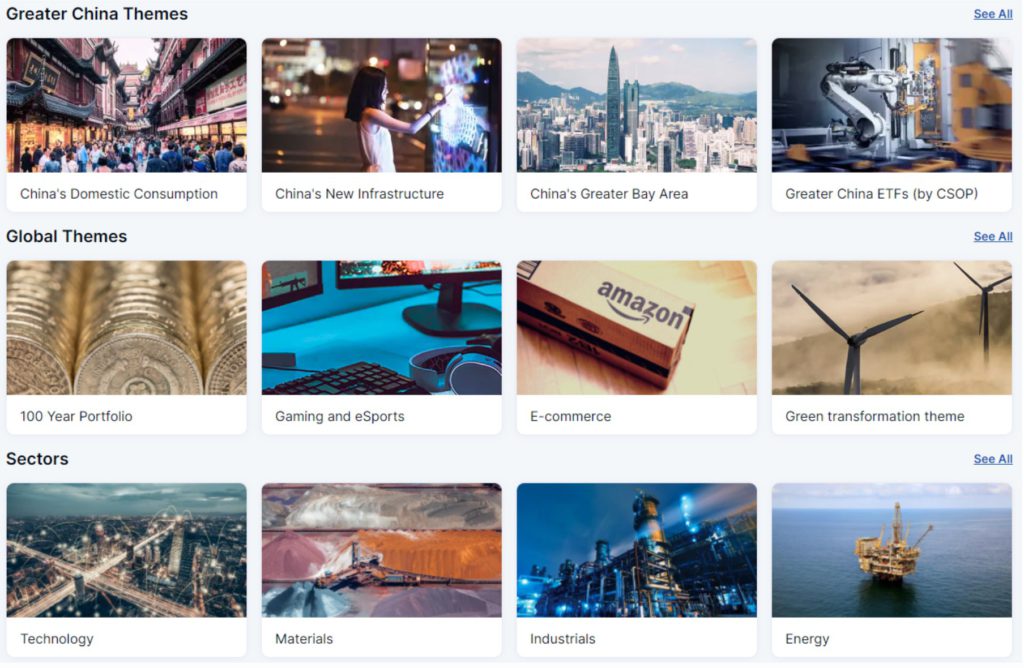 Users can easily explore each theme and sector in depth, as SaxoInvestor provides analysis and expert opinion as well as a shortlist of stocks, ETFs and funds related to that specific theme or sector.
Taking "E-commerce" as an example, SaxoInvestor provides users with 40 selected stocks. These are companies across China, Europe and the US with a total market value of US$ 4 trillion and an average revenue growth rate of 40%.
With the aid of simplified data and charts, SaxoInvestor makes it easy for users to compare the performance of different stocks from this popular investment category. This can save retail investors a lot of time, since the work of data collection and visualisation that forms part of any investment decision is already done for them.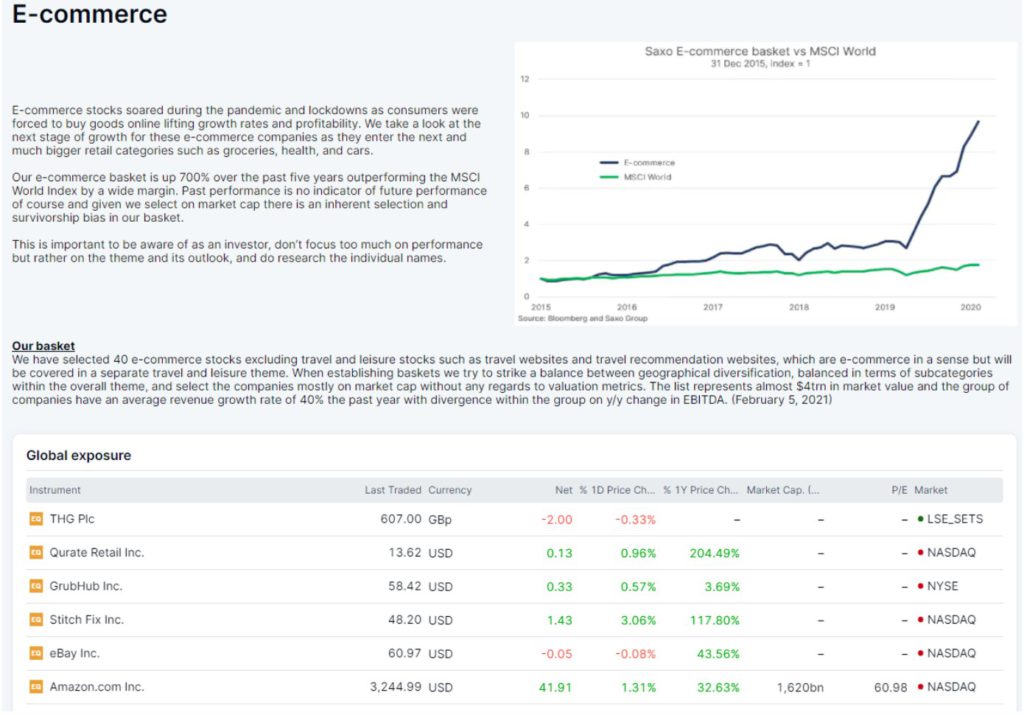 The individual stock information pages are also clear and helpful. In the example below, the stock price trend chart is detailed and comes equipped with fundamental information like price-to-earnings ratio, dividend yield and 30-day volatility, analyst ratings and targets, and company financials.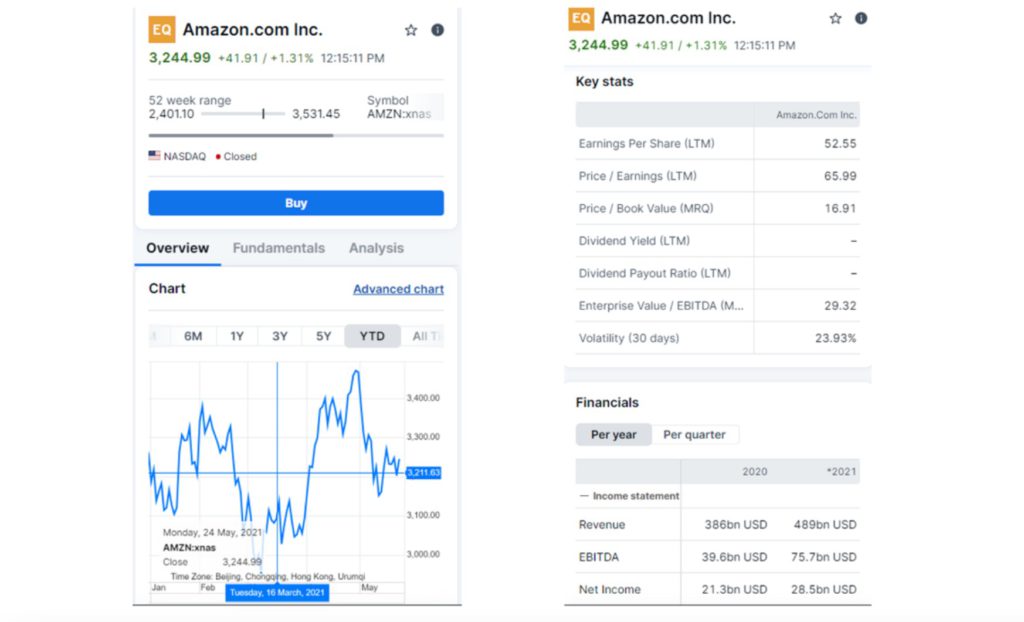 With a comprehensive set of data and a user experience that makes investing simple, SaxoInvestor can help busy retail investors save time and energy as well as help beginners to get up to speed with the latest market trends and make more informed investment decisions.
A simple but efficient way to track investment performance
Users can invest in stocks, Hong Kong IPOs, ETFs, bonds, mutual funds and take margin loan on the platform. After purchasing the assets, users can easily monitor trends, buy/sell their holdings or place a stop-loss order in a timely manner.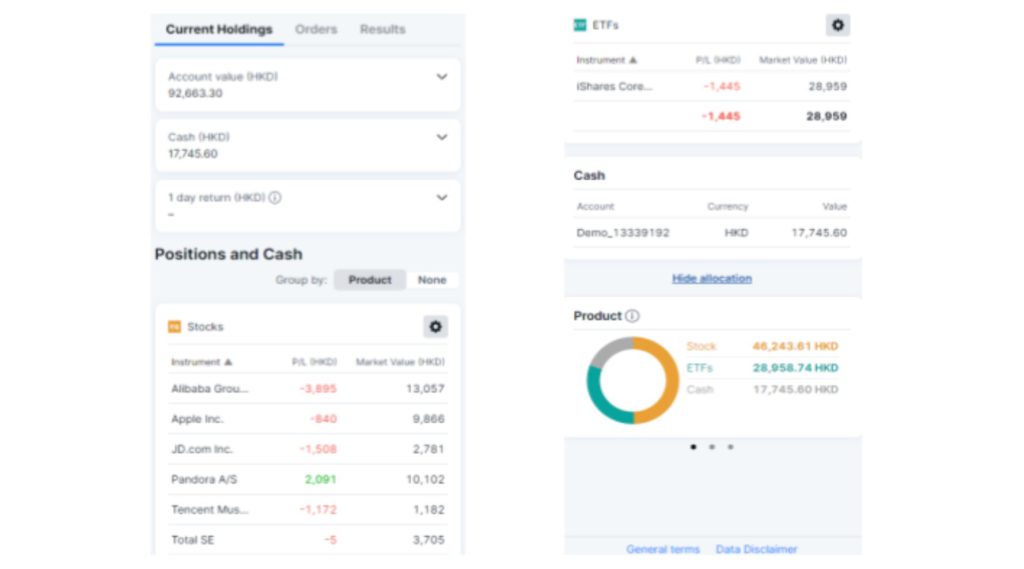 Clearly, SaxoInvestor is optimised for time efficiency as the platform focuses on providing the key information to retail investors in as simple a way as possible. If you are a veteran investor and need in-depth technical analysis or platform customisation, then SaxoTraderGo or SaxoTraderPro may be more suitable for you. The three platforms can be logged into using the same Saxo account so SaxoMarkets can meet the needs of all kinds of investors.
Online account opening in 5 minutes
The account opening process for SaxoInvestor (or any of the other SaxoMarkets platforms) is also simple. You only need to fill in some personal and financial information on the website or mobile app, upload your proof of identity and address, and then deposit HK$ 10,000 of funds.
The entire process can be completed online in under 5 minutes. Saxo usually takes about 1 to 2 working days to approve any new account.
SaxoInvestor FAQ
What products are available on SaxoInvestor?
Users can invest in stocks, Hong Kong IPOs, ETFs, bonds, mutual funds and take out margin loans.

How can I deposit or withdraw funds?
To deposit funds, go to "Menu" -> "Deposit and transfer" -> "Bank transfer" -> "Transfer currency and account ID" -> "Deposit fund instruction".

To withdraw funds, go to "Menu" -> "Deposit and transfer" -> "Withdraw funds" -> "Transfer currency and account ID" -> "Withdraw amount", to withdraw your funds online for free.


How can I open a margin account on SaxoInvestor?
Simply check the "I would like to open a margin lending account" option on the account application. The platform will then ask you for your most recent tax/pay slip and a bank statement as supporting information.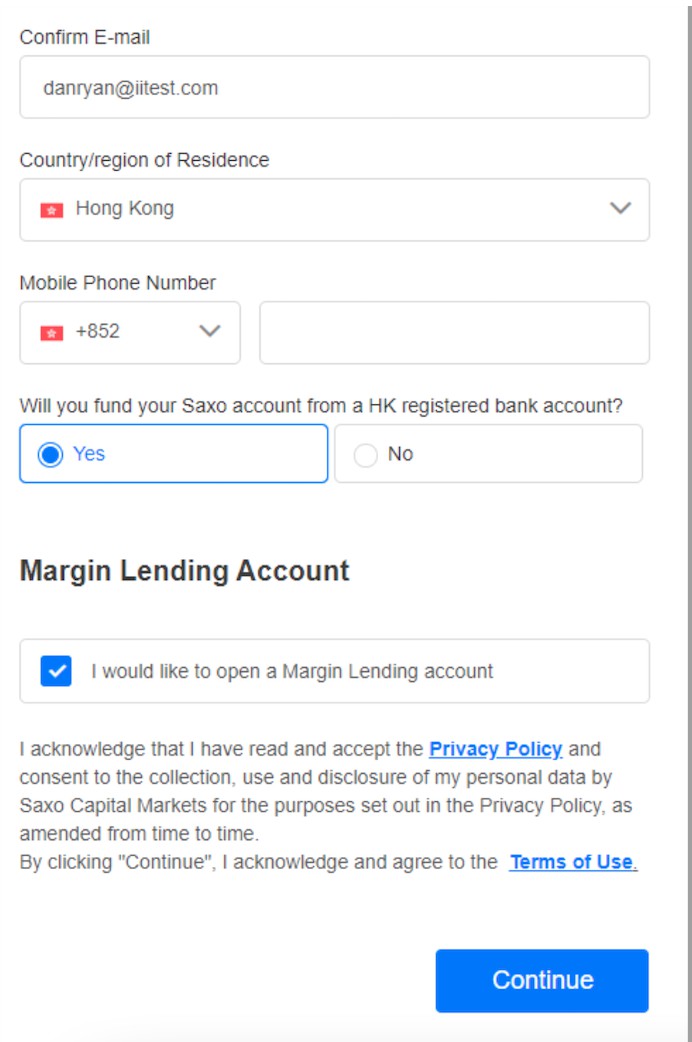 ---
Important information
Investment involves risks. This information is intended to be educational and is not tailored to the investment needs of any specific investor. This information does not constitute investment advice and should not be used as the basis for any investment decision nor should it be treated as a recommendation for any investment or action. Past performance is no guarantee of future results. The value of investments and the income from them can go down as well as up, so you may not get back what you invest.