A lot of low-fee securities brokers have entered the market and it's hard to be competitive by simply being commission-free. Valuable Capital Limited (VBKR) stands out by offering not just the usual commission-free trading of HK stocks, US stocks, A-shares, warrants, margin loans for IPO subscriptions and other services but also integrating the latest news from its parent company (Sina Group). It's effectively a one-stop investment platform where you can trade, research and talk to fellow investors in their community. New users can also get free real-time quotes if you deposit a certain minimum which is great for day traders!
Welcome Offers for September 2020
From November 18th to December 31st, Valuable will give new customers the following welcome offers upon fulfilling the below requirements:
10 reasons why you should consider VBKR
1. One-stop investment platform: Invest in HK, US, China stocks and ETFs, subscribe to IPOs, purchase warrants, CBBCs, funds and margin trading services

2. Easy account opening: It's 100% online and your account can be opened in 3 minutes

3. Low-cost trading: HK stocks are commission-free, while US stocks can be bought for as little as $1.99 USD / transaction

4. Free real-time quotes: Get one month free real-time quotes, and if your account balance is over HKD 50,000, it's free

5. IPO subscriptions: Margin subscription rates that are low and up to 10x leverage

6. Convenient and fast deposit and withdrawals: You can deposit online and convert currencies within an hour

7. Large amounts of information: Financial news and columns are updated real-time and the stock analyses are informational and useful. Currently provided in Chinese only

8.Intelligent analysis: VBKR's intelligent investment advisor can quickly create a diversified portfolio for you

9. Learning tools: For novices, paper trading and classrooms are available to help you learn how to invest better

10. Safe and reliable: VBKR's licensed by the Securities and Futures Commission for Types 1, 2, 4 and 9
VBKR online account opening process:
Opening an account on the VBKR website or mobile app is very simple. When the Planto team tried it out, it only took a few minutes to complete the full application:
Fill in basic account opening information such as name, contact number, address, risk preference, etc.
Upload identification document and proof of address
Deposit funds via Internet Banking, FPS or cheque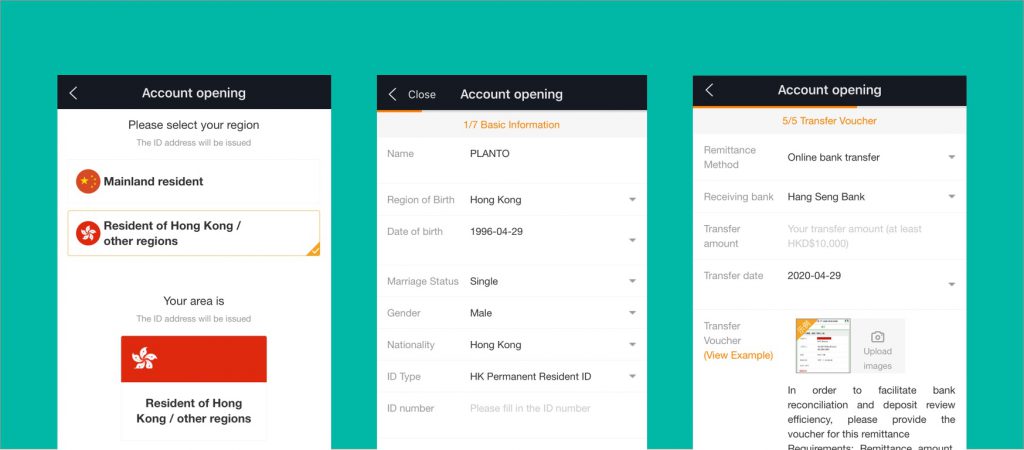 Among the different deposit methods, FPS was the fastest. Just take a screenshot of the FPS receipt and upload it into the VBKR app and your funds will show up in as little as an hour! The only drawback is this only works for HKD currency transfers.
One app for all your trading needs
Many people feel that trading requires a level of concentration that can't be achieved on a smaller screen – luckily for you, VBKR offers iOS, Android, Windows and MacOS apps as well!
The VBKR app provides detailed analysis, data and charts on individual stocks, indexes and warrants. After selecting a stock, you can easily check the current price, turnover, market value, dividend rate, capital flow and other practical information. Selecting the"Trade" tab to enter the trading page and start investing. It's simple and easy for new investors!


After opening an account, if you deposit more than HKD20,000, you can enjoy one month of free real-time quotes. For perpetual free real-time quotes, you'll need to have deposits of at least HKD50,000. The threshold is not high and may be useful for investors who are active traders. In addition, like most other online brokers, VBKR does not charge a handling fee for their IPO subscriptions.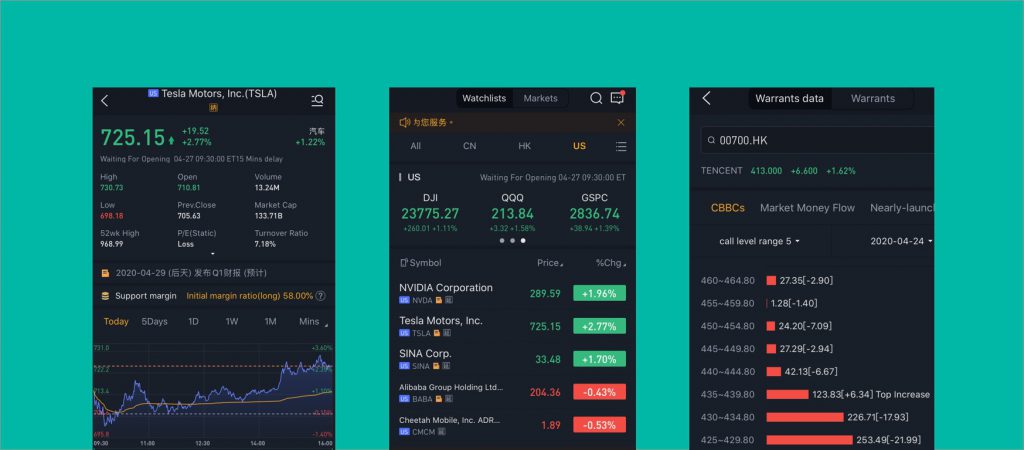 Buying and selling stocks in VBKR is similar to that of ordinary banks or investment brokers. Just select the order type, confirm the number of shares you'd like to buy and the price; if you want to buy and sell Hong Kong stock odd lots, you can go through the "Fold Limit Order" section. This feature makes it easier to sell odd lot stocks with low liquidity, and also helps novice investors with little principal to buy high-quality stocks with a lower investment amount.
Sina Finance & Community [Chinese only]
Many securities brokers have tried to provide financial news in their mobile apps, and VBKR, as a product of Sina Group, integrates financial content from Sina and Weibo. Open the "Community" section of the VBKR mobile app and you can read a large number of financial news reports, analysis columns and investment experts sharing their experiences on social platforms. The content is updated 24 hours a day, and you can also get instant news of US stocks in the middle of the night.
In addition, in the "VBKR Classroom", users can watch teaching videos, broadcasts and articles about Hong Kong and US stocks, covering basic knowledge of stocks, introduction to CBBCs, market analysis, etc., they even have the famous financial KOL Shi Fu (Shi Hongyi) teaching as well! The lessons are short and easy to understand – both novices and veterans could learn something from them!
There is no shortage of cost-effective investment brokers in the market, but the informational content in VBKR stands out. Even if you invest with other securities firms, you may wish to use VBKR to keep up with the latest stock market news and data.


VBKR also has robo-advisory functionality – if you're not sure how to invest, you can invest in a diversified portfolio composed of ETFs with one click. The system will prompt you to adjust positions when the market conditions change, making investment simple whilst helping you build a good habit. Whether the performance of the robo-advisory algorithm is better than humans is hard to say – but it can be a good way to enter the market while you're doing your own research!
If you're scared of investing in the market, or have different strategies you want to try, another way you can test these is with VBKR's simulated stock trading functions. You get a virtual initial capital of HKD 1 million and you can practice paper-trading before diving into the real thing.