"What's the difference between Virtual Banks and Traditional Banks?"
"Which virtual bank has come out on top?"
"Why are virtual banks offering such high deposit rates?"
In recent months, several virtual banks have launched in Hong Kong. Consumers who are not familiar with the banking industry may not know where to start despite their interest in virtual banks' attractive offers. ZA Bank is the first virtual bank to officially launch in Hong Kong. It also offers a relatively more comprehensive service range. If you're interested in virtual banks and innovations, ZA Bank would be the right place to kick-start your "virtual banking" journey.
Jump to:
Enjoy ZA Bank account opening cash rewards with exclusive Planto invitation code
ZA Bank has offered an exclusive invitation code to Planto's audience. You can use the designated invitation code to open a ZA Bank account from now on until 30th June 2021.
Use <PLANTO150> code to open account and spend any amount with ZA Card within 14 days after successful account opening to receive a 150 HKD cash rewards*. All ZA bank customers can enjoy an annual interest rate of 1% with ZA Savings Go#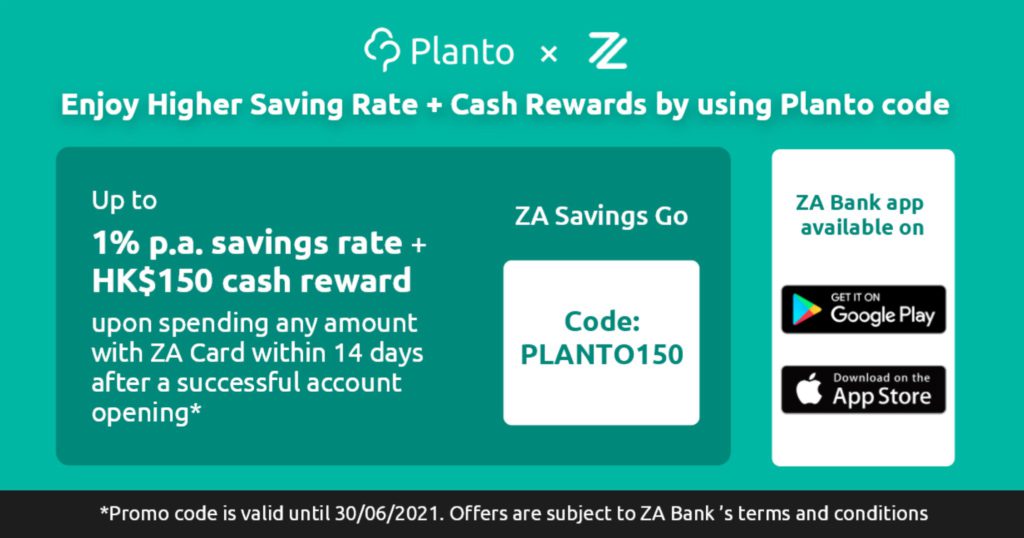 How to open a ZA Bank account in 5 minutes 
Virtual banks' services are mostly provided through mobile application, and the same applies to ZA Bank. To open a ZA Bank account, users just need to go through a simple and intuitive online process which can be done any time and from anywhere. These steps include: 
1. Search "ZA Bank" from Apple App Store or Google Play Store and download the ZA Bank mobile application. (To install directly via apk, please visit and download from bank.za.group. Please switch the store to Hong Kong if no results were found.) 
2. Register with mobile phone number and email address (Remember to use the promo code <PLANTO150> to get the rewards on or before 30 June 2021)
3. Scan your HKID using phone's camera 
4. Verify identity with facial recognition 
5. Fill in basic information such as occupation and address, and customise your ZA card number
What are the key functions of ZA Bank's mobile application? 
ZA Bank mobile application follows a clean and simple UI design with eye-catching mint green and white as its primary color. Unlike mobile application from many traditional banks, contents within ZA Bank's mobile application are not cluttered which give good user experience even for the first-time user. 
Up to 11% cash rebate on ZA Bank virtual Visa debit card
Choose and customize your Visa debit card number while enjoying up to 6% cash rebate from online transactions with ZA card, while all Deliveroo orders can enjoy up to 11% cash rebate. You will not have to worry about monthly payment, late payment or annual finance charges. You can also add your card to ZA Bank through Apple Wallet. 
Besides, you can enjoy a buy-1-get-1-free offer when you buy a coffee at some famous merchants such as Arabica, Coffee Academics, Cupping Room, LOF10! 

FPS and real-time withdrawal
Just like any traditional banks, ZA Bank supports FPS and you can swiftly transfer money to and from your existing bank account without any handling fee. Given FPS is a standardized transfer method initiated by the Hong Kong Monetary Authority, the FPS function in ZA Bank is the same as any other traditional banks. This means funds can be transferred instantly after registration using phone number, email address or FPS ID. 
Add money with "Easy Deposit"
ZA bank's rolling out a brand-new deposit experience. You can bind your account at other banks and add money to ZA Bank in seconds.
30 minutes approval personal loan
ZA Bank has made a pledge to ensure that your loan application will be reviewed within 30 minutes after all the required documents are submitted. Consumers will get HK$10 for every minute of overtime, and this amount can go up to HK$500 (Some people may start to wish that ZA Bank processes their loan slowly!). 
A "Less is more" virtual banking experience 
There have been many success stories among virtual banks around the world – however one common question that consumers often ask was "if I have a traditional bank account already, why should I open a virtual bank account?" this is a fair question, and the answers can be found below. 
While it is true that the breath and variety of services offered by virtual banks is often limited when compared to any traditional banks, traditional banks' mobile applications are usually equipped with cluttered or complicated interface. 
You may think of virtual banks as "lite" version of the traditional, full service banks. Depending on your needs, this may not be a bad thing since it allows virtual banks to focus on making its online services convenient and accessible 24 hours. Furthermore, virtual banks' services come with competitive fees and promotions. 
As Hong Kong's first virtual bank, ZA Bank has taken the initiative to introduce banking innovations to Hong Kong consumers – this ranges from seamless account opening, high interest time deposit, fast approval loan and ability to customize various notifications. Our team at Planto has tried out ZA Bank's mobile banking experience and the amount of investment into user experience design was noticeable throughout the user journey. 
Frequently asked questions 
To contact ZA Bank's customer service staff, you may call +852 3665 3665 or email to bank.opinion@za.group. 
*Offer is subject to ZA Bank's terms and conditions 
To borrow or not borrow? Borrow only if you can repay.
1The Annualized Percentage Rate ("APR") of 1.45% is calculated based on a loan amount of HKD200,000, repayment tenor of 6 months at a monthly flat rate of 0.07%. Interest is calculated on the basis of 365 days per year. The APR is calculated using method specified in relevant guidelines issued by the Hong Kong Associations of Banks. The APR is a reference rate, which includes all applicable interest rates, fees and charges of the product, expressed as an annualized rate.