Aqumon
Best for:
People who have enough cash and want to be completely hands-off
Minimum Investment Amount:HKD 8,000 for the Basic Portfolio
Fees:0.4% fee for Basic Portfolio
Portfolio Creation:HK and US ETFs
Account Opening:100% online
Aqumon is the first US ETF robo-advisor (automated investment consultant) in Hong Kong. You tell them some information about yourself and your risk appetite, they build an investment portfolio and basically do everything (buying, selling) for you.
The Planto team has done a deep-dive into Aqumon's pricing, account opening process and past performance benchmarks to help you decide if they're right for you.
Background
Aqumon was incubated in HKUST and are fully licensed by the Securities and Futures Commission (SFC) for Type 1, 4 and 9. They've partnered with 60+ financial institutions including CMB Wing Lung Bank, ChinaAMC and BOCI so they have a strong track record as well.
Account Opening
The account opening process is end-to-end online and can be done either via mobile or on a computer. It can feel a bit longer than opening an account with a securities broker but, ultimately, it only took us about 10 minutes to open our account and then another day for the money to be transferred in.
How it works
Once you've opened your account, you answer a few questions about your risk tolerance and Aqumon will start building your portfolio. All you need to do is tell them whether you would like your portfolio to have more stocks (higher risk, higher return) or bonds (lower risk, lower return) and a new portfolio is created just for you!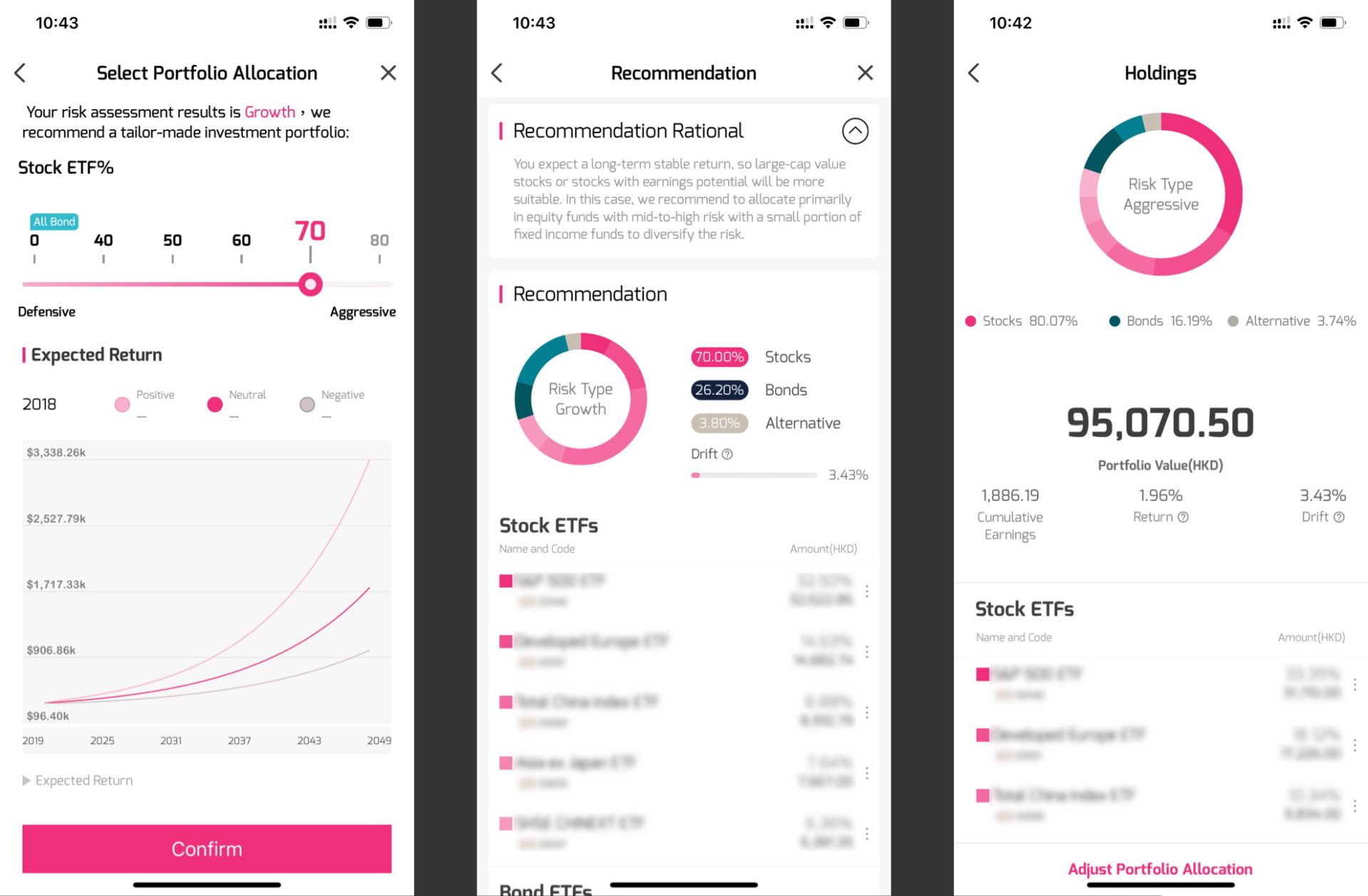 Past Performance
This is where Aqumon truly shines among the robo-advisors. They are very transparent about their performance and give monthly updates on how their portfolios are doing. Overall, they have two types of accounts which have different risk tolerances (ranging from conservative to aggressive):
SmartGlobal Max (globally diversified):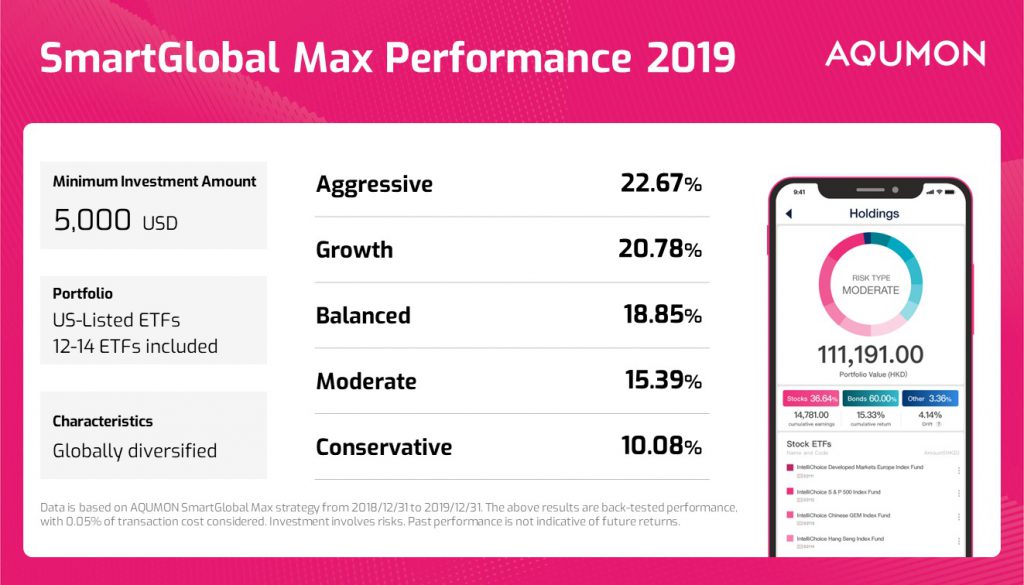 SmartGlobal (Asia-focused):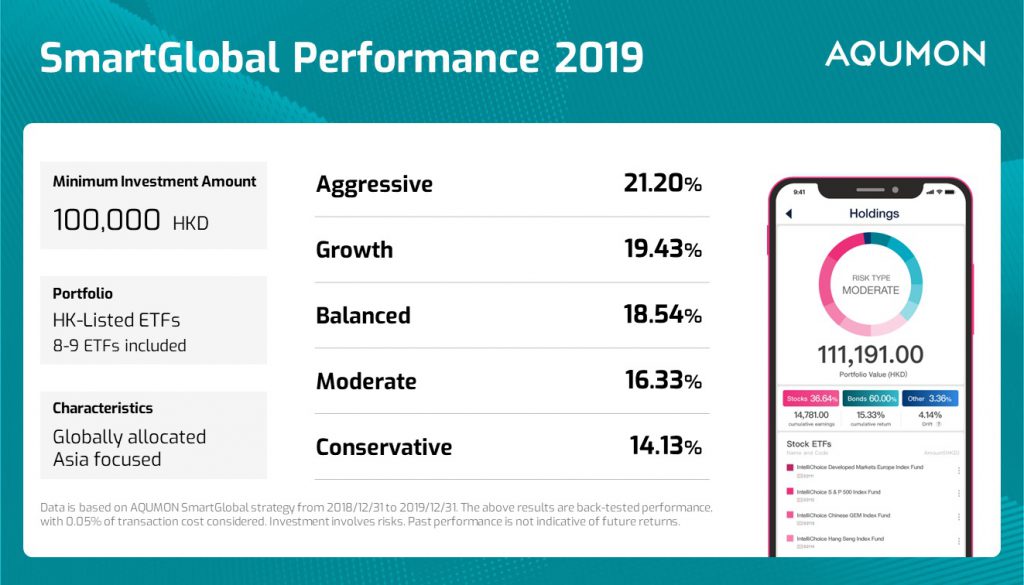 As you can see, the more risk you are willing to take, the higher the return is. It goes without saying that past performance is not an indicator of the future but the fact that they are willing to share performance benchmarks is a great start!
Aqumon has also recently launched a bond portfolio which could be an alternative to holding cash or as a way to reduce your risk if you're concerned about the future of the financial markets.
Lastly, Aqumon has also launched a Basic portfolio (a 'mini' version of their existing ETF portfolios) which lowers the investment minimum to USD 1,000 (~HKD 8,000). 

Rebalancing:
Every now and then, your portfolio will need adjustments because of changes in the market, performance of individual holdings, etc. Aqumon will help out with this process by informing you whenever an adjustment is needed and you can execute it with just one click:

Pricing
Aqumon charges a flat fee of 0.8% per year but their new bond and basic portfolios charge a flat fee of 0.4% per year This is less than Chloe but higher than Kristal.
Minimum Investment Amount
Aqumon Standard portfolios (12-14 ETFs) has a higher minimum investment amount than the other robo-advisors. You'd need at least HKD 40,000 to start with them which can be a big commitment for some people.
However, Aqumon's Basic portfolios solve this so you can get started investing with as little as HKD 8,000 (USD 1,000)!
Summary
In all, Aqumon is transparent about their performance, which (historically, at least) has been quite strong. With the new Basic portfolios with lower minimums, they are great for people who want to start investing and want to be completely hands-off the process.
Important information: Investment involves risks. This information is intended to be educational and is not tailored to the investment needs of any specific investor. This information does not constitute investment advice and should not be used as the basis for any investment decision nor should it be treated as a recommendation for any investment or action. Past performance is no guarantee of future results. The value of investments and the income from them can go down as well as up, so you may not get back what you invest.