Webull is a securities firm that launched in the United States in 2018. It recently landed in Hong Kong with zero-commissions for Hong Kong stocks and A-share trading services. It is expected to provide US stock trading functions very soon. We tried Webull's mobile app and found that in addition to its low fees, it also has a surprisingly good UX and functionality which makes it stand out among the many other low-fee securities firms.
Table of Contents
Introduction to Webull
Background
Launched in the United States in 2018.
Fees and products
$0 commission, support Hong Kong stocks, A shares, ETFs, warrants, IPOs and odd lot shares

Dual licensed in US and Hong Kong stocks (Over 10 million US and Hong Kong stock choices for users)
Real-time market information
Free real-time quotes for Hong Kong stocks (BMP quotes) and quotes from major global exchanges
Analysis tools
Provides 8 chart tools and 50 technical indicators, including Xiaomi's strategic investment technology.
Trading platforms
Supports iOS and Android. Windows, Mac and Web versions are coming soon
Security
Licensed by the SFC, uses Citibank and CMB Wing Lung as custodian bank, protected by the Investor Compensation Fund
Webull's Welcome Offer
On or before 30th April 2021, new customers who open an account through Planto's link and transact at least once will get 2 Alibaba (9988 HKG) and 2 Xiaomi (1810 HKG) stocks.
Open a Webull account in 3 minutes
Like other online securities firms, the process of applying for a Webull account is very simple and it only takes a few minutes to complete.
Fill in personal information: including name, date of birth, ID number, work status, investment experience, etc.
Select account: Currently, Hong Kong users can only choose cash account, and Hong Kong or Shanghai-SZ-HK Stock Connect account. Margin accounts and US stock accounts are coming soon.
Identity verification: Upload your ID card and proof of address, and transfer HK$ 10,000 to your Webull account (as per regulations HK SFC to complete online identity verification).
After completion, the account can be opened within one working day at the earliest. Don't forget to complete the above-mentioned welcome offer conditions and redeem 2 shares of Alibaba stocks and 2 shares of Xiaomi stocks for free.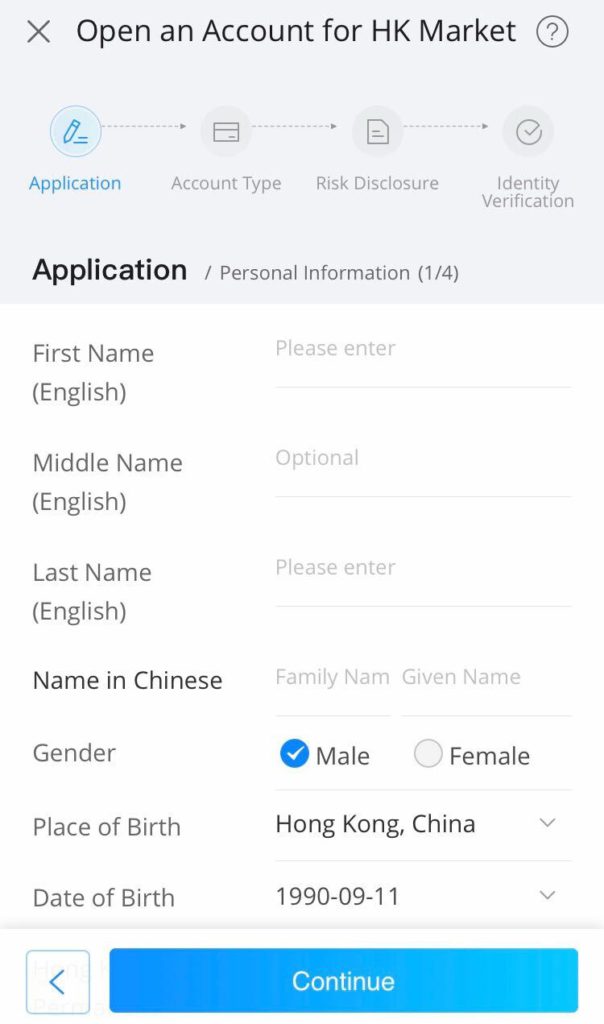 Professional yet simple user interface
Webull is not the first securities firm to use in-depth data as a selling point – and it isn't the broker with the most number of data points. The real advantage of Webull is that it can display important data and charts in a very simple to understand way. Retail investors without professional training will not find it overwhelming!
After selecting any stock, in addition to the necessary data such as market value, turnover rate and dividend rate, you can also see the flow of funds and related news reports. In the Hong Kong stock market, reports come from local media such as Economic Daily, Hong Kong Economic Journal and Economic News; news sources for U.S. stocks include Bloomberg, CNBC, SeekingAlpha, Bloomberg, etc., to help users easily understand what news may be affecting the stock.

Webull also provides analysts' comprehensive rating data, dividing stocks into five levels: "strong recommendation", "buy", "neutral", "lagging market" and "sell", as well as target value prediction, support level and resistance analysis. Of course, the analyst's views are for reference only and should not be the only thing you rely on.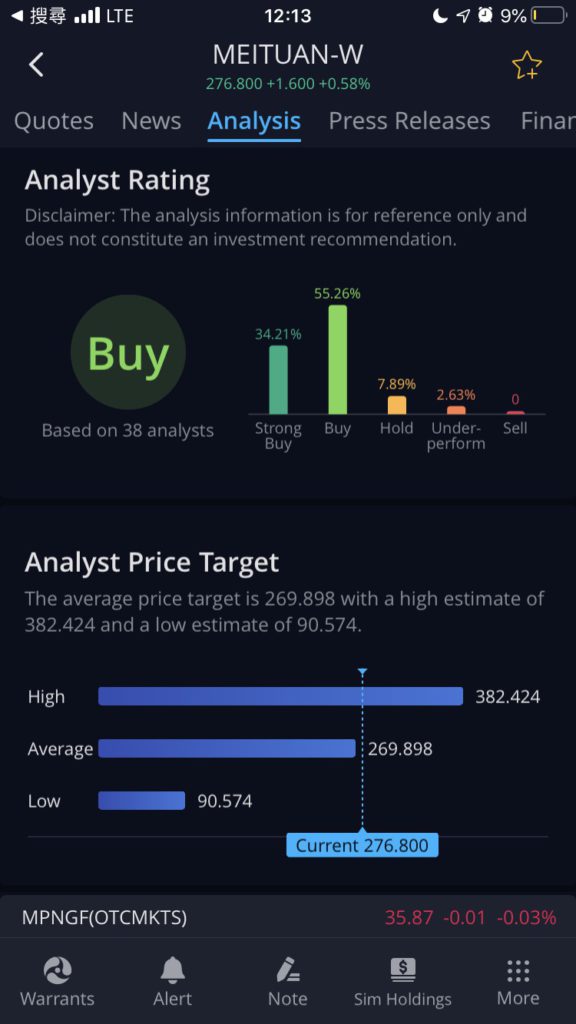 In the financial column, there are key data such as business analysis, earnings per share, balance sheet, and cash flow. You may have used similar financial data analysis functions on other securities trading platforms, but Webull's unique because the chart design and color are easy to read and understand. It feels like the product was designed with an attention to the customer's needs.
Other unique stock analysis functions that are rare in the mobile apps of similar securities firms in Hong Kong include:
Comparison: Select up to 3 stocks or indexes, and automatically make comparison charts
Replay: At a speed of 1 to 120 times, look back at the stock price of the specified date and time period like a movie
Double Chart: Split the mobile interface into two and watch the charts of two stocks at the same time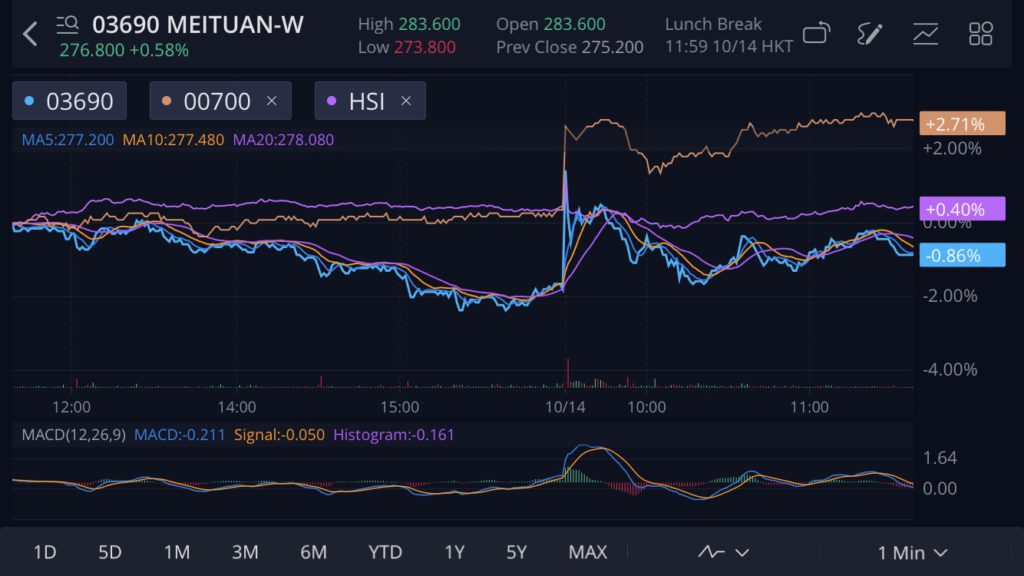 Market & Cryptocurrency Data
In the quotation column, you can see macro overview of the three markets of Hong Kong, Shanghai-Shenzhen-Hong Kong Stock Connect and US stocks, including the market index trend, market fluctuation distribution, net capital inflow, and the trend of different industry sectors and leaderboard.
In addition to the most popular stock markets, there are also the Japan FTSE 100 Index, the Canadian S&P/TSX Composite Index, and basic data on multiple major currencies. Surprisingly, they also list the price trends of more than a dozen cryptocurrencies such as Bitcoin and Ethereum. Although Webull does not allow you to trade cryptocurrencies, it's a good way for investors to keep an eye on crypto-currency prices in the same platform!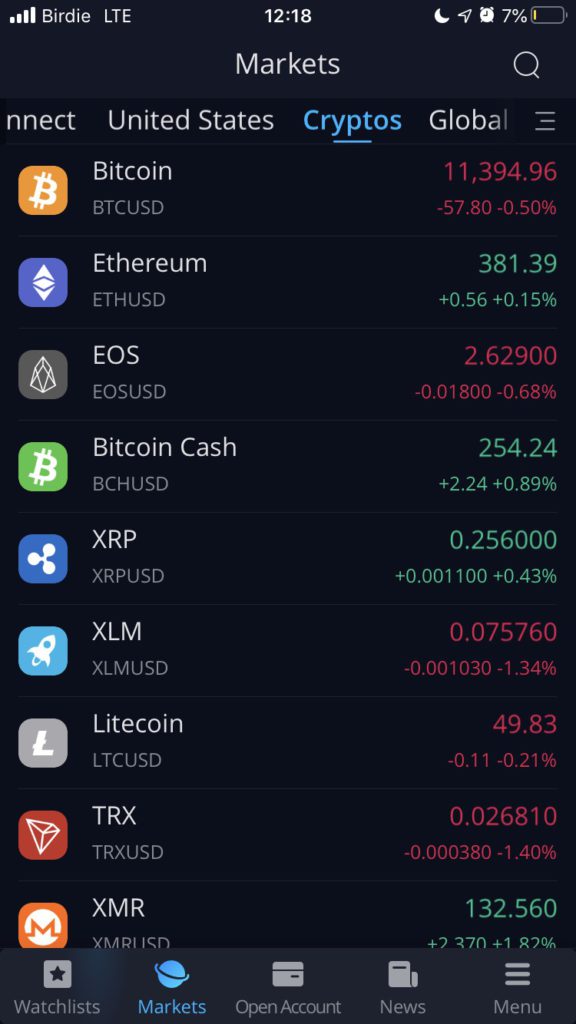 Transaction Fee Details
Webull supports investing in Hong Kong stocks, Shanghai-Shenzhen-Hong Kong Stock Connect A shares, as well as ETFs, warrants, CBBCs and inbound securities in the Hong Kong stock market. Hong Kong stock trading supports three types of orders: market order at auction, limit order at auction, and enhanced limit order.
Like online securities firms that have emerged in recent years, Webull has taken a lower fee route.
| Hong Kong stock trading items | Rate | Charged By |
| --- | --- | --- |
| Commission (electronic channel) | 0 | Webull |
| Platform Fee | HK$10/order | Webull |
| Commission (telephone) | 0.25% (min. HK$100) | Webull |
| Stamp Duty | 0.10% (If it is less than HK$1, it will be calculated as HK$1. Not charged when trading ETFs, warrants, CBBCs, and inbound securities) | HKSAR |
| Transaction Levy | 0.0027% | SFC |
| Clearing Fee | 0.002% (min. HK$2,max. HK$100) | HKSE |
| Transaction Fee | 0.005% | HKSE |
| Trading System Usage Fee | HK$0.5/order (min. HK$0.50) | HKSE |
| Investor Compensation Levy | 0.002% (has been suspended until further notice since 2005) | Investor Compensation Fund |
(Applicable to Hong Kong market stocks, exchange-traded funds (ETF), warrants, CBBCs, inbound securities, etc.)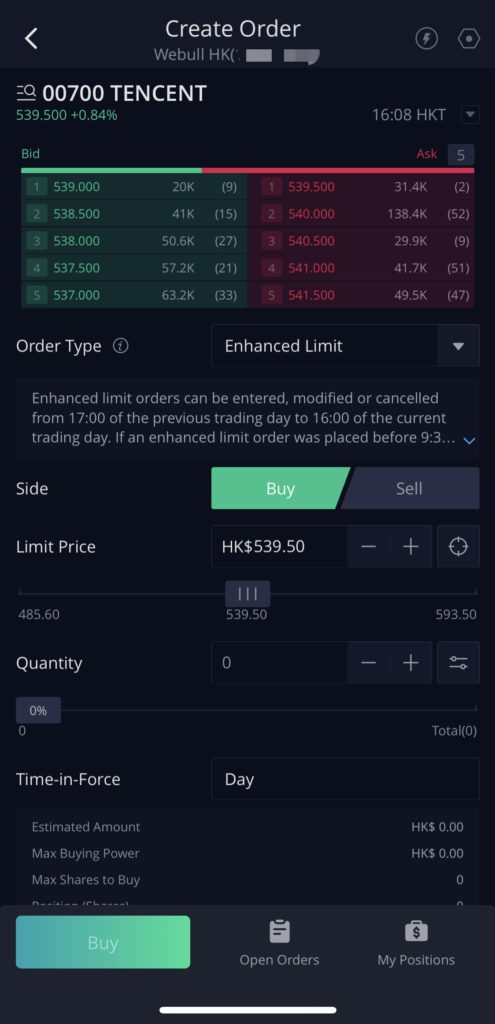 Although US stock trading is not supported by Webull yet – given that they are active in the US for a while, it's quite likely they will launch this service in Hong Kong as well. We'll let you know as soon as we have any new information about that!
Summary: A unique challenger in the investment broker market
In recent years, low-fee mobile securities firms have become popular. Since transaction costs have nearly hit rock-bottom and brokers are pushing welcome rewards, whether they can eventually keep their users depends more and more on the user experience, research functionality and content available in their apps.
We've reviewed almost all the major mobile securities firms in the Hong Kong market, but we're surprised by Webull's UX. You may find similar analysis information on other websites or platforms, but what Webull excels at is displaying data in a concise and simple way. It is by no means another 'generic' trading platform and we think it has a bright future in the Hong Kong market