🤩Matrixport X Planto Welcome Offer
Starting from 27th May 2021, users who are new to Matrixport can register using the link below to enjoy 30% annualized return on 1,000 USDC with a tenor of 18 days (~14.8 USDC return in 18 days). Users who have completed KYC2 and redeemed the 30% annualized return offer can enjoy extra $20 USDC reward.
At the beginning of 2020, Bitcoin (BTC) price was ~US$7.2k and in 2021, Bitcoin price has exceeded US$60k but later sharply declined by 50%. Having its price more than tripled in a year, Bitcoin attracted the attention of many retail investors who are now looking into cryptocurrency investment. 
Due to high price volatility, investors who are looking to invest into Bitcoin should be able to accept its risk profile as well.
What is a crypto currency fixed income investment?
Crypto currency fixed income investment can be a lower risk alternative for investors who are looking for return by taking part in crypto currency investment. In a simple term, investors agree to lock up their cryptocurrencies for a fixed yield at maturity (like how time deposit typically work). 
Cryptocurrency platform like Matrixport provides a wide range of fixed income investment features which cover tenor between 1 day to 240 days and the platform accepts both stable coins (like USDC and USDT) and other crypto currencies (like Bitcoin and Ethereum).
For example, one of Matrixport's current offer is 12.0% annualized yield for USDC stable coin deposit for a tenor of 30 days – this means a deposit of 1,000 USDC will grow into ~1,010 USDC in just a month!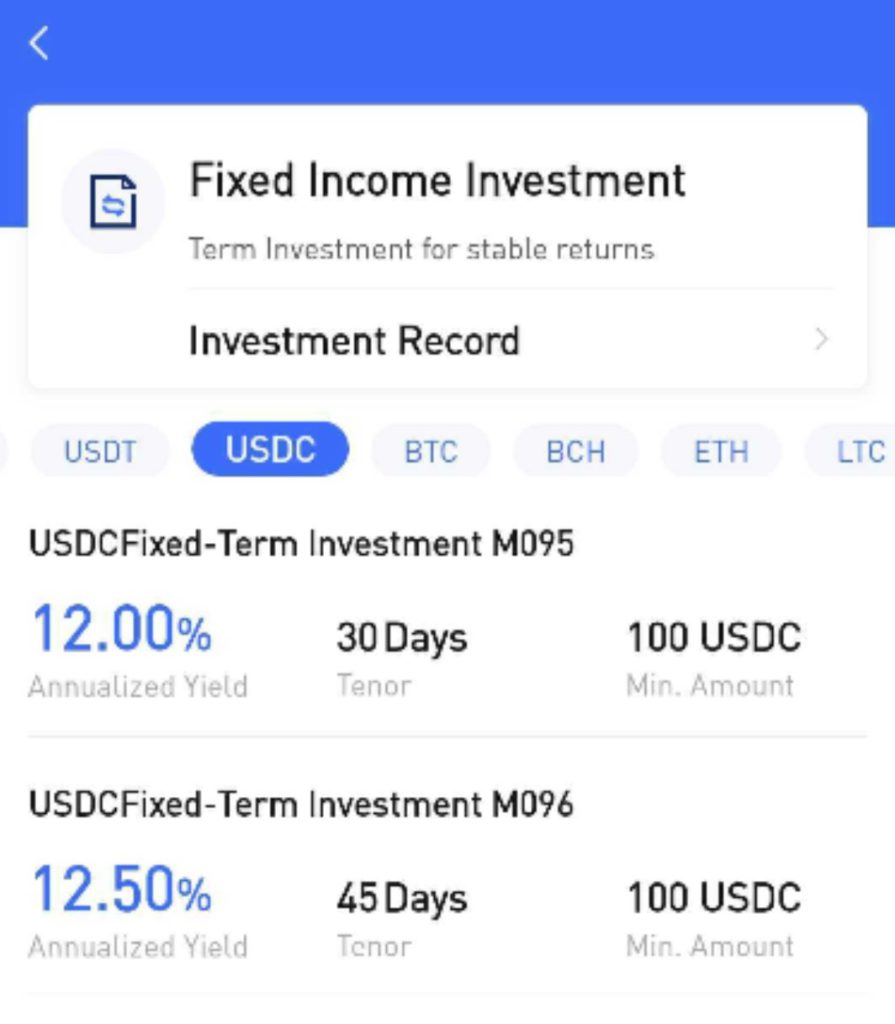 What are stable coins?
Stable coins like USDC and USDT are a class of cryptocurrencies that offer stability in price. They are often pegged to a currency and are backed by actual reserved assets. For example – 1 USDC, which is a stable coin managed by Centre.io (collaboration between major crypto currency platforms like coinbase and CIRCLE), is backed by an actual US dollar in an actual bank account.
Due to US dollar pegging, USDC can always be exchanged for US dollar almost at a 1:1 ratio.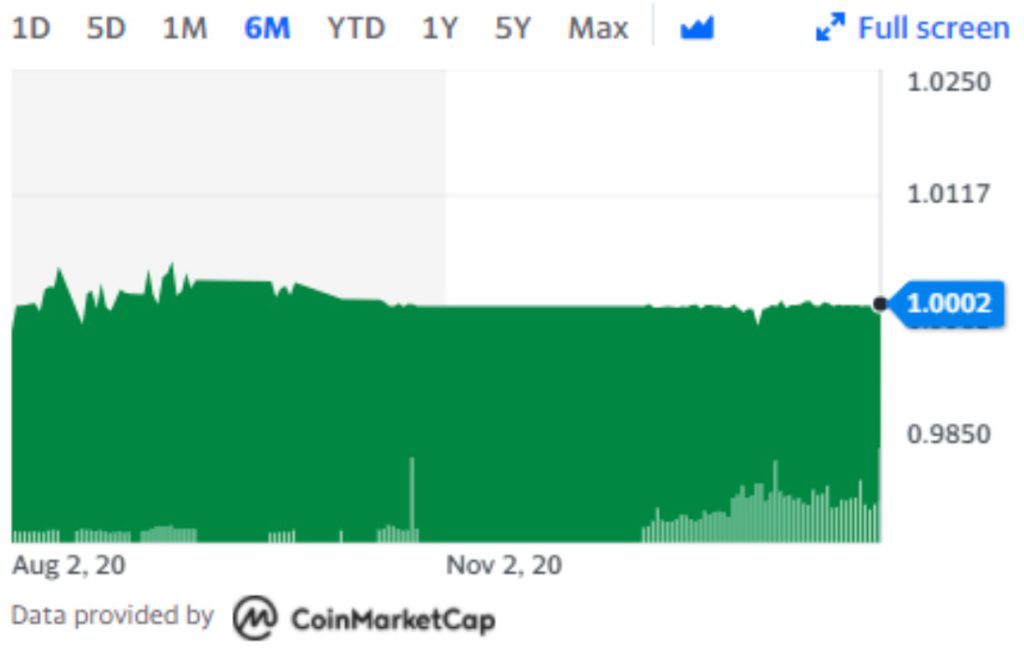 To provide extra transparency, Centre.io publishes a third-party audit report for USDC on a monthly basis (https://www.centre.io/usdc-transparency). 
Review of Matrixport (Current offers and user experience)
Current offers
Starting from 27th May 2021, users who are new to Matrixport can register using the link below to enjoy 30% annualized return on 1,000 USDC with a tenor of 18 days (~14.8 USDC return in 18 days). Users who have completed KYC2 and redeemed the 30% annualized return offer can enjoy extra $20 USDC reward.
Apart from the special offer above, Matrixport usually offers between 8% to 15% annualized return on stable coin deposits with tenor ranging from 1 day to 240 days.
New user registration
New users can follow the registration link above to register with either email address or phone number. The account will be ready for usage immediately after registration with no on-boarding KYC (KYC is only required for withdrawing currencies from the account). 
Immediately after the registration, users can set up various security measures like extra authentication or set up trading password.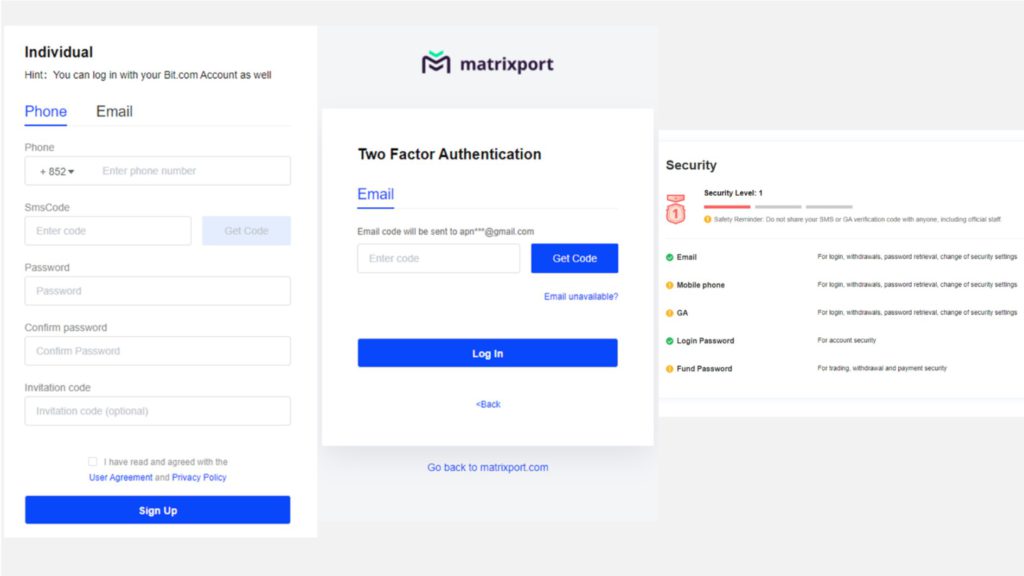 Purchasing or depositing of crypto currencies
Credit card
Users can choose to deposit their existing crypto currencies or purchase them online through Matrixport using credit cards. Matrixport allows users to purchase crypto currencies online using a credit card via a secured platform called Simplex.  
The process is similar to any other online transaction with 1 added step as Simplex requires all users to go through a quick identity verification process. 
When the Planto team tried out Matrixport's purchasing journey, it took us less than 10 minutes to go through. After receiving a confirmation from Simplex, the currency appears on Matrixport's dashboard just a few minutes afterward.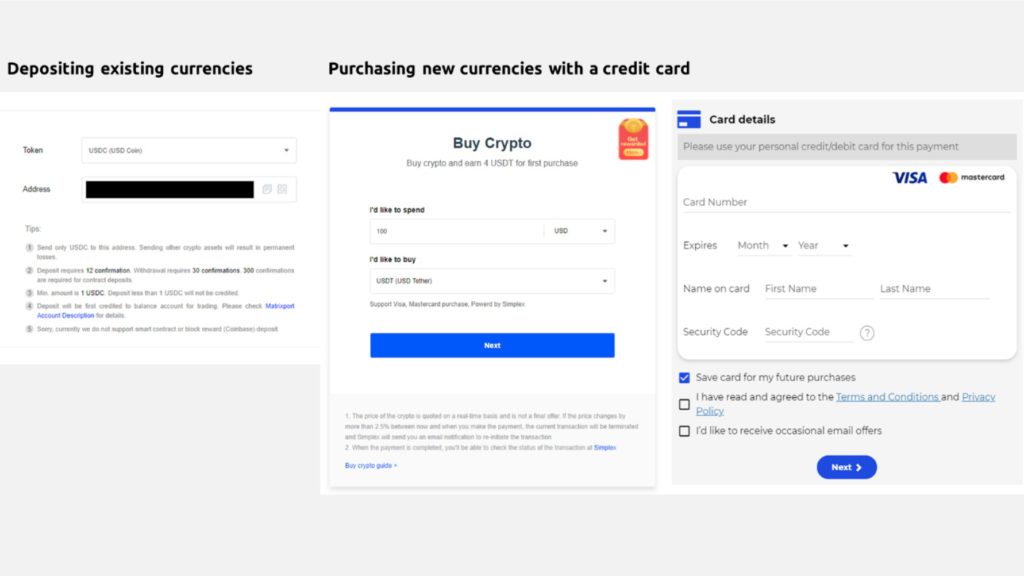 Purchasing crypto currencies using a credit card is a quick and simple way for anyone to own their first crypto currency. However credit card transaction often comes with 3 to 5% fees (which means 3-4 months of payback period if you are getting 12% annualized return).
Credit card may be a good way for new users to start experiencing crypto currency investment, however for a larger transaction – investors can try the bank wire transfer on Matrixport App, which is newly launched with Circle.
Wire transfer
With the integration with Circle, Matrixport now supports wire transfer which allows users to transfer their USD directly to Circle and receive USDC directly on their Matrixport's wallets. This service is free of charge, however local banks may charge overseas transfer fees. HSBC Hong Kong for example, charges 50 HKD for a telegraphic transfer done via online banking.
To use wire transfer feature, the user would first need to add their bank account with USD currency which include 2 steps 1) provide account details and 2) upload a bank statement for verification. When tried the process out, this was completed within 1 business day.
The transfer process include:
Get a unique identification code from Matrixport's app
Initiate the transfer on your banking app
[Very important] Include your unique identification code in your transfer description field 
Matrixport has a detailed, step-by-step guide which can be found here.
Trading crypto currencies
Trading of crypto currency is a fast and simple process. The user simply needs to select a trading pair, enter the transaction amount and confirm the transaction. The transaction will be reflected in your Matrixport's wallet almost instantaneously. 
Users who purchased USDC using bank wire can make use of the trading feature to get Bitcoin or ETH in few clicks.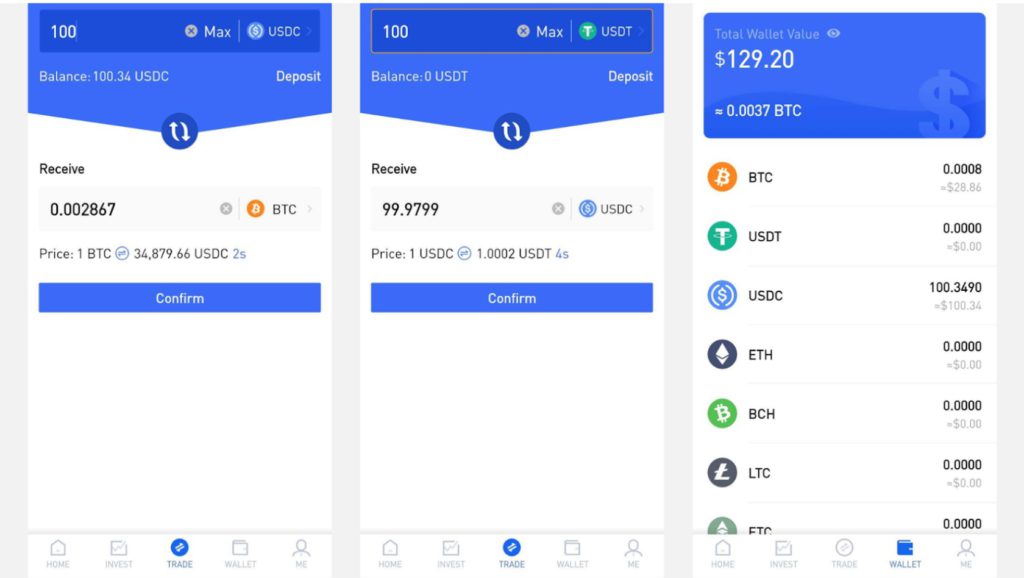 Fixed income investment
Users can explore various fixed income offers by selecting "Fixed Income" icon from the home screen. After that, the users can filter and choose an offer of their choice. A typical minimum investment amount for fixed income product is 100 USD or 0.01 BTC.
Matrixport will display exact details such as a return calculation and maturity date before users are required to confirm their transactions. Once completed, investment details can always be found on the "Invest" tab.
Upon maturity, both principal and return will be deposited automatically back into Matrixport's wallet which can then be used for investment (like purchasing Bitcoin) or put back into another fixed income offer.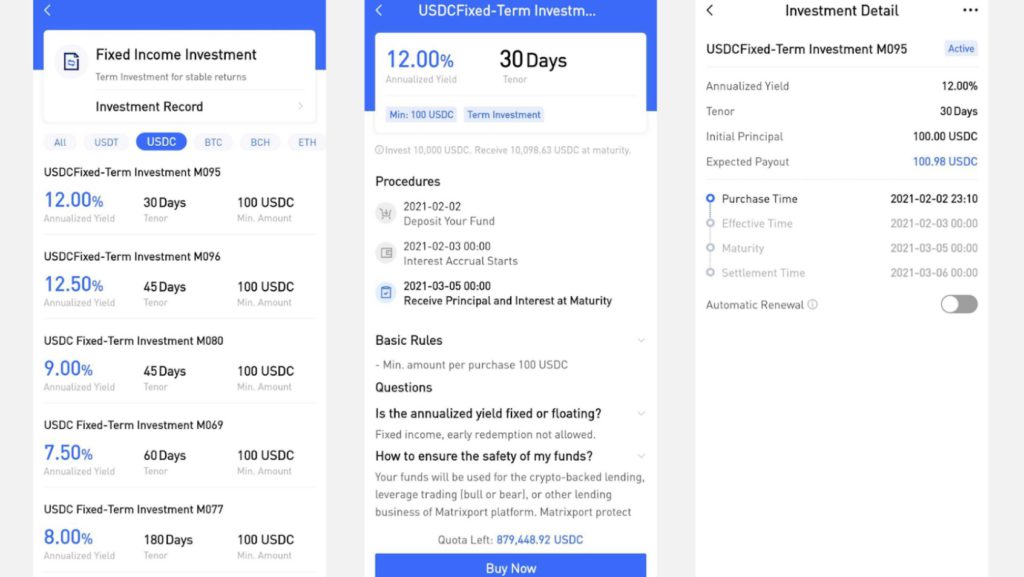 Withdrawal
Users can enjoy 2 free withdrawals to another wallet every month. Matrixport just partnered with Circle to launch the Bank Wire feature, so Circle can convert users' USDC into USD and transfer to users' bank directly. (With 30 USD per transaction charged by Matrixport) 
Verdict: Matrixport is an easy-to-use platform which is catered for both traders and savers
Matrixport's trading and investment features cater to both investors who are looking to trade crypto currencies or enjoy high yield over time. Based on our observation, Matrixport is an all-in-one crypto investment platform due to its comprehensive product offering ranging from basic to advanced investment features as well as loan products (more information below). 
While the user experience is mostly good, it can take a bit of time for a new user to get used to. Crypto currency purchase using credit card may be a good way for new investors to get started, but its fees can be quite high, users may try the bank wire for larger amount and lower cost. Lastly,  with the partnership between Matrixport and Circle, users can transfer their crypto currency to fiat money into their bank easily.
About Matrixport
Matrixport is a spin-off of a crypto mining giant Bitmain. The company offers a comprehensive range of crypto investment features which come with asset security and 24 x 7 global customer support.
Product features:
Basic investment features: buy, trade,  hourly compounding flexible deposit and fixed income products
Advanced investment features: dual currency, smart trend, best-buy funds, leveraged trading
Loan: instant approval collateral loan
Credibility:
USD 5 Billion Monthly Trading Volume
USD 700 Million Outstanding Loan
USD 10 Billion Asset under Custody
200+ Employees Globally
Regulatory compliance
Hong Kong Trust Company Licence
Swiss FINMA SRO-VQF Member
Singapore Payment Service Act License (Exempted and under review by MAS) *
User Privacy Protection Policy
*applied by Fly Wing Technologies Pte. Ltd., a wholly-owned subsidiary of Matrixport
How can Matrixport offer such a high return on fixed income product?
Crypto currency deposits give Matrixport liquidity as well as the ability to lend out crypto currencies to consumers/ miners/ hedge funds. For example, as of the date of this review, the platform is offering loan on USDC at 15-17% APR. 
Do fixed income investment contain risk?
All investments involve risks. On Matrixport's mobile application, Matrixport states that they have a proper set of risk control program, in the event that any losses occur with the underlying assets of the fixed income product, the program shall provide in-time alert and stop losses as soon as possible to protect the interests of investors.
While the platform do not guarantee 100% rigid redemption and in case of any extreme market situations, investors may have to face losses in income or principal.
Investment involves risks. This material contains general information and our opinion on Matrixport's features only. It is not an invitation to invest nor is it to be construed as an offer to buy or sell any investment instruments. The information contained in this material is only accurate on the date such information is published on this material.