We all love traveling. This is why our review this time is on DBS's Black World Mastercard, which is famous for its air miles and travel perks!
Key Features
Can earn up to 50,000 miles with their limited-time welcome offer of HK$0.5 = 1 mile
Can redeem reward programs such as Asia Miles, Avios, KrisFlyer and PhoenixMiles with your DBS$
Local Spending HK$6 = 1 Mile
Overseas Spending HK$4=1mile
DBS$ never expire so you can slowly plan your next trip
No charges on the conversion from DBS$ to miles
You can get DBS$ for your e-Wallet spending e.g. Octopus, PayMe, WeChat, etc.
Welcome Offer
Limited time only! From 1 April 2020 to 30 June 2020, you can enjoy as low as HK$0.5 = 1 mile when you successfully apply for a new card!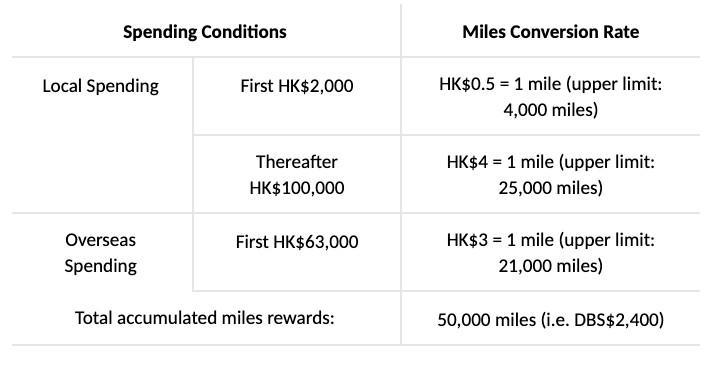 Mileage Rate
Between 1 Apr – 31 Jun 2020
Local Spending: HK$ 6 = 1 mile
Overseas Spending: HK$ 4 = 1 mile
eWallet Spending: HK$ 6 = 1 mile
Basic Information
Annual salary requirement: HK$ 240,000
Annual fee: HK$ 2,000
Overdue payment fees: up to HK$ 300
Foreign currency transaction fee: 1.95%
Disadvantages
Online payment spending doesn't apply to the welcome offer
PayMe, Alipay HK, Wechat Pay spending does not apply to the welcome offer
Octopus AAVS is only HK$ 12 = 1 mile
Is the DBS Black World Mastercard right for you?
The DBS Black World Mastercard earns flight miles whether you're spending on eating out, drinks or shopping, and there is no mileage conversion fee. You can use the Planto app to link your existing credit card and analyze your past spending – if you spend a lot and want to spend less time managing cards, the DBS Black World Mastercard can help you effortlessly accumulate Asia Miles. Since the DBS$ points have no expiration date, you don't even have to worry about your points expiring and can plan your travels with ease!